Dominican Republic History
COLONIAL DECLINE
After the Columbus era, colonial decline was soon the fate of Hispaniola.
The gold deposits so prized by the Spanish began to be exhausted by 1515. Within a few years Hernan Cortez was to conquer and open up Mexico, and the unimaginably huge resources of silver would be the 'new gold'.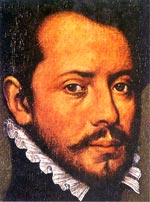 Hernan Cortez - Conqueror of Mexico
The colony of Santo Domingo was minimised, many abandoning it for greater riches on the mainland, leaving only a few thousand settlers.
Columbus had introduced pigs and cattle, and the remaining settlers were employed in producing and preserving meat for the passing Spanish ships on their way to the mainland colonies.
PIRATES OF THE CARIBBEAN
THE TWO COLONIES
TOUSSAINT L'OUVERTURE
HOME

Quick Links:
---
Help Us Become Ad Free!
As The Season of Good-will and Generosity Approaches... ;-)
We are still working towards making this website 'ad free', but we need a TINY bit of help!
The button below will allow you to to make a small payment directly ($1 or £1) to Al G Smith (manager of the Visiting-the-Dominican-Republic website). Simply choose your preferred currency. Thanks very much.

 HELP US reach our objective?:

---


Just click the images below to start exploring the wealth of information about the Dominican Republic featured on site:
How much do you need to retire to the DR in comfort?...
...Try this handy financial calculator to find out