Avocados the Essential
Dominican Ingredient:
Our Favorite Avocado Recipes
Original article by Al Smith
Avocados and avocado recipes are a mainstay of Dominican cuisine. The soft ripe creamy green pear is an essential accompaniment to almost every Dominican meal.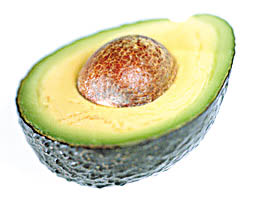 A meal without avocado, for us, is a meal without a heart!
Most often the very simple favorite way to use an avocado or two, that we use at most meal times, is as follows:
Simple avocado recipe
Allow ½ an avocado for each person
Ensure that avocado is ripe
(TIP: The avocado quite soft and yielding at top and base when gently pressed)
Cut through the avocado lengthways, centrally.
Gently ease the two halves apart
Separate the stone from the avocado entirely
(TIP: Cup the half with the stone gently I your hand and lever the stone out by using a sharp knife and be careful)
Place avocado on a suitably sized plate cut side down
(TIP: Lay one half facing one way one the other - just for better presentation!)
Slice through the avocado at 1cm (½ inch) intervals
Mix a tablespoon of olive oil with 2 teaspoons of fresh lemon or lime juice
And drizzle over the avocado
Finish by sprinkling with ground black pepper
Or fine chopped cilantro (fresh coriander leaves)
Serve as soon as possible after preparation.
OK it's more 'Mexican' than Dominican but here is another avocado recipe we like, a creamy, spicy, tangy dip that is excellent with nachos/tortilla chips:
Favourite Guacamole Recipe
2 large ripe avocados
2 fine chopped shallots
and half/or whole average sized red or mild white onion
2 good sized very finely chopped minced fresh garlic cloves
1 good sized ripe-ish tomato, peeled, de-seeded and chopped
A teaspoon of fine chopped moderately hot chilli (you can of course use more chilli if you 'like it really hot')
Juice of a whole fresh lime
A pinch of ground, untreated 'grey' sea salt
A good grind of black pepper
And if you like it:
Some fine chopped fresh cilantro (coriander) leaves
The avocado should be at the soft ripe stage, but still perfectly green and free of 'grey/black' deterioration (cut this out if necessary, as it will discolor the guacamole)
Gently remove avocado from stone and peel
Put avocado in a bowl and add lime juice immediately to reduce discoloration, ensure all the avocado is covered.
Remove the tomato skin by pouring boiling water over the tomato and leaving for 30 seconds. The skin should split at top and bottom and slide off, cut in half and scoop out pips. Flatten slightly on a chopping board and dice quite finely, but not to a 'mush'.
Mash the avocado with a fork until reasonably smooth. Fold in the onion, chili and garlic and season combine thoroughly but not too 'brutally'!
Season to taste with salt and black pepper.
Place in a clean dish and leave for 'flavours' to develop for up to an hour. Serve in a clean dish, and sprinkle fine chopped cilantro (coriander) leaf at point of service.
If you have any favorite avocado recipes, or alternative guacamole recipe (or as some spell it guacomole! Wrongly by the way!!) then please do 'email' them to us via our contact page and we'll happily feature it here!
Ruth & Esther
Here's a great recipe resources jam packed with favorite recipes that are delicious - maybe not Dominican per se but endorsed by Dominicans shall we say ;) and definitely worth a look:
Be sure to check out this great resource (click image):

---
Do YOU Have a Favorite
Caribbean, Latin or
Dominican Recipe
We'd love for you to let us know about your favorite Dominican Recipe -- or indeed a great recipe from any Caribbean or Latin culture would be really great.

If you have a recipe you have tried, tested, and love -- then please take a few minutes to let us know it.

We'll publish it here on the site so others can also enjoy your 'good taste'.