Backpacking trip, Camping or
simple rural Dominican Accommodation. Discover some favorite places
whether planning a:
Backpacking trip
Camping adventure
Hiking experience
Mountain trek on horseback
(PLEASE NOTE: We have left this article its original form -- although we have deeply been saddened to learn of Marshall's passing. The Dominican backpacker's hostel, "Rancho Wendy", in Bonao, is still operated by Marshall's family and friends and welcomes inquiries to stay -- see form below:)
Or just looking for some great value, simple rural accommodation in the Dominican Republic!
If you are planning a trip to our country, the Dominican Republic, in the spirit of being a 'true'
traveler,
then you will apreciate knowing...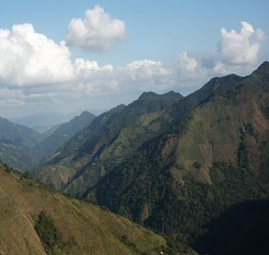 There is a place cradled in the Cibao mountains, amidst magnificent landscapes yet within such a spectacular and safe setting...
...that it will make you feel:
'suffused' with a sense of adventure and expectation, a sensation that only such a place with its breathtaking views in all directions can inspire. You will be truly tempted to discover all you can about this beautiful place!
For here, in a land blessed with excellent weather almost all year round and in which Mother's nature bounty is so supremely evident - you, your friends and your family can obtain the perfect island experience.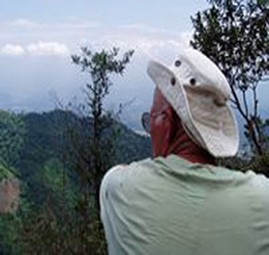 And the place is...a ranch run by Marshall Zipper (sadly Marshall died in 2010! but the place is still much alive :)and Ramona based at Los Quemados, near Bonao in the Dominican Republic. As Marshall himself put:
"Los Quemados is a sleepy village nestled in the foothills of the Cordillera Central, a destination that remains a precious secret to those few who have enjoyed its allure."
To take a look at the range of accommodation, prices and services on offer at Marshall's 'rancho' for those planning a backpacking trip, or who just want to spend time exploring the interior of the Dominican Republic, and have a comfortable place to stay - click here!
---
Marshall's ranch in
Marshall's ranch is the perfect place for your backpacking trip or a laid back vacation. But more than this, it is a place where 'YOU' can do many other activities, including biking, hiking, water sports, outdoor sports, swimming, getting to know the locals, horseback riding, enjoying BBQ's and fun-filled evenings!
Marshal desire is to exceed your expectations, it is felt into all aspects of his tours -- from planning each day's activities and providing personalized service to ensuring your comfort and safety. Though you may not be aware of what happens behind the scenes, Marshall makes sure you will have a comforting sense of being well cared for. Whatever the activity, he goes the extra mile to deliver an unforgettable experience.
Camping by the ranch's stream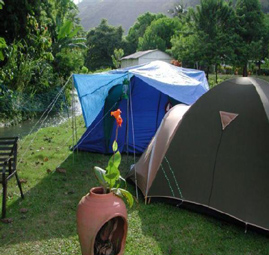 Offering adventurous treks by foot or 'in the saddle'...
"We are just 45 minutes from Santiago (Cibao International) airport and just over an hour from Santo Domingo's (Las Americas International) airport...based in the central mountains of the Cibao valley.
We offer 5 different hiking treks with guides or if you want to be more adventurous and hike without a guide then we can provide infomation on location by request.
Our tours are with well trained guides that will take you to the best spots to see things like waterfalls, dams, caves, springs and views that will take your breath away.
We also offer numerous different horse trekking trails that will take you deep into the countryside to give you a chance to see nature as it really is.
Riding around Los Quemados, Bonao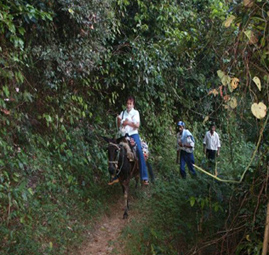 A 'picture perfect' place for a backpacking trip!
If you need a place to pitch your tent with bathroom facilities, or if you need a cheap room to stay in or base yourself....then we are the place for you!
We are looking forward to welcoming you soon!"
Marshall Z.
An early morning start!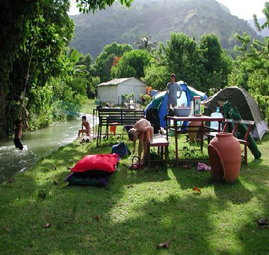 Please take a look at the accommodation and camp site prices, perfect for a backpacking trip, and simply reserve a place by using the form provided below:
Accommodations without breakfast
| | |
| --- | --- |
| Super economy room with double bed | US$10 |
| Room with double bed | US$15 |
| Family room (1 double bed and 1 single bed) | US$20 |
| Room for 6 (3 double beds) | US$25 |
| Studio (1 or 2 double beds) | US$25 |
| Pitch for tent | from US$5 |
| Dormitory Male | US$7 |
| Dormitory Female | US$7 |
| Dormitory Mixed | US$7 |
(Note: These tables provide indicative pricing only -- these prices may have been slightly revised and will be confirmed on receipt of inquiry:)
Accommodations with breakfast
| | |
| --- | --- |
| Super economy room with double bed | US$16 |
| Room with double bed | US$21 |
| Family room (1 double bed and 1 single bed) | US$26 |
| Room for 6 (3 double beds) | US$49 |
| Studio (1 or 2 double beds) | US$31 |
| Pitch for tent | from US$8 |
| Dormitory Male | US$10 |
| Dormitory Female | US$10 |
| Dormitory Mixed | US$10 |
"If you would like lunch included please add US$10 per person per day to the above prices. If you would just like breakfast then add US$3 per person to the 'without breakfast' daily rates (first table above).
Our rooms are simple, but comfortable, and our friendly staff are on hand to answer any questions you may have. There are bathrooms in all rooms, and for campers there are good, clean bathrooms/toilet block facilities.
Why not try the 'different tropical experience'? Come and stay in the picturesque and verdant 'heart' of the Dominican Republic, and discover the real reason why Columbus thought this 'the most beautiful land' in the world!"
---
Well, what else can we add here? Marshall has given us an excellent idea of how much fun, as well as how healthy and exciting can be to visit Los Quemados, Bonao. It is an excellent place for for a backpacking trip, for camping or for truly economical 'bed and breakfast' accommodation. A place where you can really appreciate the verdant beauty of inland Dominican Republic - in total relaxation, and away from he 'typical tourist' crowds :-)
We'd like to thank Marshall for introducing his wonderful ranch to our visitors. We hope some of you choose to spend some tranquil time in Bonao - indeed why not book your backpacking trip accommodation, or maybe a few days B&B, now using the form below?!
Best wishes,
Ruth & Esther

P.S. Don't forget to drop us a line to share your Bonao visit and/or backpacking trip experience when you get back from Marshall's ranch.

Go to the top of Backpacking trip and Dominican hostel accommodation page