Caribbean Weddings
Caribbean Weddings Resorts List...
But first:
Claim our new FREE eBook now: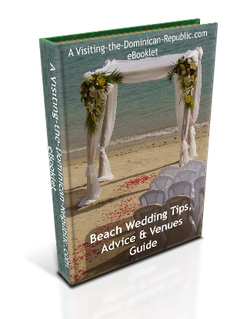 (We never share your details. A confirmation will be sent to your email address and when you clcik the link in that email you will receive the free eBook immediately. Thanks very much!)
There may be more choices of venue for your Caribbean wedding than you imagine. You could be spoilt for choice...
With is vast array of sun drenched locations and dream-sequence beaches the islands of the Caribbean are growing in popularity as destimations for 'tying the knot'. It helps that the Caribbean as it is an area where the weather is 'almost' guaranteed all year round and it certainly beats standing forlornly in the drizzle or snow whilst your wedding photographer fiddles with his/her lenses and light-exposure settings (as in the UK and elsewhere further north of the DR) if you have chosen to wed outside of the summer months!
The exotic locations on offer for Caribbean weddings also ensure that your special day will linger in your memeory and that of your friends and family for many years to come!
Whilst we are necessarily biased to suggest that the ideal place for your perfect nuptial ceremony can be planned and experienced on the wonderful isle of La Hispanola -- otherwise known as the Dominican Republic -- there are a number of places you might want to compare before you return to 'clinch' that best deal and make yours one of the coming years' Caribbean weddings to remember.
Here is a 'shortlist' of possible contenders for the base for your wonderful Caribbean wedding!:
* Anguilla
* Antigua & Barbuda
* Aruba
* Bahamas
* Barbados
* Belize
* Bermuda
* Bonaire
* British Virgin Islands
* Cancun Weddings
* Cayman Islands
* Cozumel
* Cuba
* Curacao
* Dominica
* Dominican Republic
* Grenada
* Guadeloupe
* Jamaica
* Martinique
* Montserrat
* Puerto Rico
* Saba
* St. Barthelemy
* St. Kitts and Nevis
* St Eustatius
* St. Lucia
* St. Maarten
* St. Martin
* St. Vincent and The Grenadines
* Trinidad & Tobago
* Turks and Caicos
* US Virgin Islands

Naturally we particularly recommend the Dominican Republic as your
best wedding venue in the Caribbean
-- to find out why, be sure to check out our:
Wedding tips and advice
:
Also see these useful resources for assisting your successful wedding planning:


Lose Weight For Your Wedding Day: Diet Solution



Create your own Wedding Bouquets

(Affiliations: Links above are to external websites where products to help you plan and make a success of your wedding are on offer. We are affiliates for these products and will make a small commission if you choose to buy.
NOTE: The price you pay is not affected or inflated by our association, you pay the same price as via any other similar link, but the publisher sends us a fee -- this is how we manage to fund the maintenance and growth of this website and we thank you for your support in advance.)
---


Return to top of Caribbean Weddings page