Here is that Caribbean map
you've been looking for!
Even today not everyone realizes that the Dominican Republic appears on the Caribbean map! As discussed in other places on this web site there are numerous reasons why this might be -- but one thing is for sure the Dominican Republic is not quite the 'undiscovered secret' of the Caribbean that it used to be even ten years ago!
When you take a look at a map of the Caribbean, such as the one below, you may be surprised by the fact that the Dominican Republic is so large a place compared with the majority of Caribbean countries! Indeed, only Cuba is larger which along with Jamaica and the Dominican Republic make up the largest of the Greater Antilles.
Most of the other Caribbean countries make up a crescent shaped chain of smaller islands called the Lesser Antilles. These include Puerto Rico (by some measure the largest) at one end and Trinidad and Tobago at the other. The relatively tiny isles of Anguilla, Martinique, Dominica and numerous others fall in between -- as can be seen on the Caribbean map below: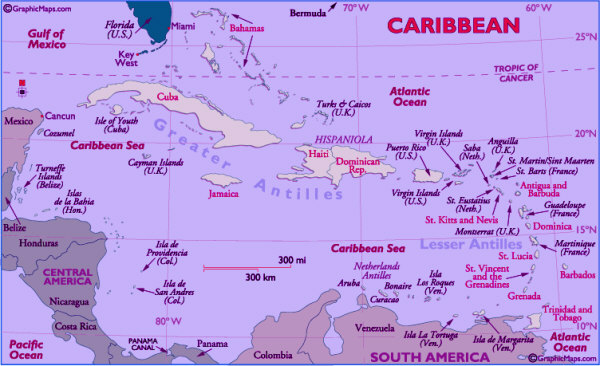 (From GraphicMaps.com at http://WorldAtlas.com)
As can be seen, the Dominican Republic is fairly centrally placed on the Caribbean map being, broadly speaking, almost equidistant from Florida a little way up to the North West; the East coast of Mexico off to the west; the linking countries between North and South America -- Honduras, Nicaragua, Cost Rica and Panama -- to the South West; and the North Coast of the South American countries of Colombia and Venezuela directly to the South.
The Dominican Republic shares the Isle of Hispaniola, as Columbus christened it, or Quisqueya as the native Tainos who pre-dated Columbus called it, with Haiti. Both countries share a chequered history, and there has for many years been an uneasy and periodically violent relationship between the two. Indeed in the middle of this first decade of the 21st century it may be fair to say that inter-country relations are as good as they have been for many a year.
Although, as is so often the case with such geographically close neighbours it is the differences rather than the similarities that frequently come to the fore! For even though the Dominican Republic is by no means a wealthy country -- with some 80% of its population living at or below the poverty line -- Haiti is sadly, by a considerable way, the poor relation and cannot be said to be a safe tourist destination even today.
Go to the top of the Caribbean map page