Dominican Artists and Painters
Dominican Artists and Painters: a short list of some notable artists and painters from the Dominican Republic:
Jaime Colson (1901 - 1975) was a modernist painter from the Dominican Republic. Born in San Felipe de Puerto Plata, he studied first in Spain, in Madrid and Barcelona, before moving to Paris and becoming accepted by the Cubists. He moved again, in 1934, to Mexico, where he taught for a time before returning to the Dominican Republic in 1938. Colson's style was influenced by purism and Surrealism, with a dose of Pablo Picasso's classicism as well. Besides exhibiting as a painter he was active as a teacher; among his pupils was the Cuban modernist Mario Carreño Morales.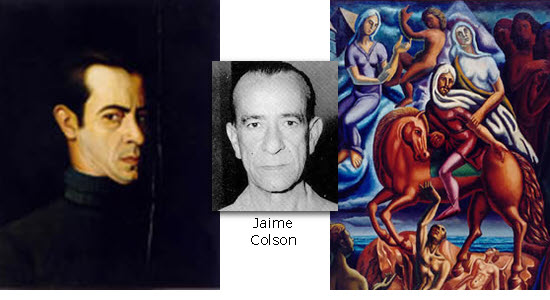 Paul Giudicelli (1921 - 1965) was an abstract painter from the Dominican Republic. A native of San Pedro de Macorís, he initially entered the University of Santo Domingo to study philosophy, but he switched to the Escuela Nacional de Bellas Artes the following year. In 1953 he held his first exhibition, at the Galería Nacional de Bellas Artes. He later became a teacher. Giudicelli died in Santo Domingo in 1965.
Aurelio Grisanty (1949 - ) Aurelio "Rail" Grisanty, is a Dominican-born American painter, graphic artist, muralist, set and costume designer, entrepreneur, and the principal artist of the Beach Town Posters ongoing series of vintage Art Deco prints.
Yoryi Morel Yoryi Morel (1906–1979) was a painter from the Dominican Republic. A native of Santiago de los Caballeros, he spent most of his career in Santiago Province. He held his first exhibition in Santo Domingo in 1932. Later he founded the School of Fine Arts in his native city. As a painter he was primarily self-taught; he created mostly landscapes and figure paintings, with a few portraits as well. He was mostly recognized for his typical Dominican paintings. He taught famous painters including Clara Ledesma, who was a Brazilian born painter, who later, at a young age, moved to the Dominican Republic.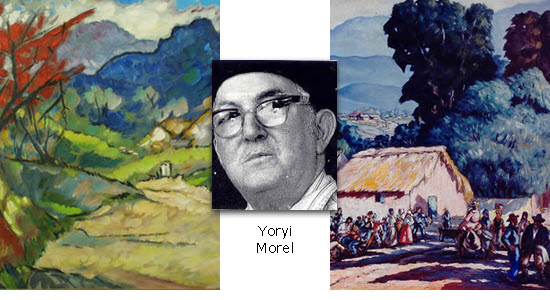 Olivia Peguero is a Dominican contemporary artist, who came into national prominence during the last decade when she was commissioned to paint a visualization of the poem "The Emerald Hills of Quisqueya". Working most of the year in the Dominican Republic and Florida, her time is spent painting en plein air trying to always be immersed in the natural surroundings, beaches and mountains of the Caribbean.
Rigo Peralta Mario Rigoberto Peralta was born in San José de las Matas, Dominican Republic. He studied at the National Academy of Fine Arts in Santiago, Dominican Republic. He emigrated to New York City in 1989 and studied at the Art Students League of New York. From 2002-2003, he served as the art director of the Casa de la Cultura Dominicana.
Amaya Salazar Amaya Salazar (b. 1951, Santo Domingo, Dominican Republic) is a Dominican artist known for her faceless personas that inhabit mystical and magical environments where light and the Antillean flora are present.
Jorge Noceda Sanchez (1931–1987) was a surrealist painter whose works are collected by museums throughout the world. A native of the Dominican Republic.
Dario Suro (1917–1997) was a painter, critic and diplomat from the Dominican Republic. A native of La Vega, he was the nephew of painter Enrique García Godoy, his first art teacher. Along with Yoryi Morel and Jaime Colson, he is considered one of the founders of the modernist school of Dominican painting.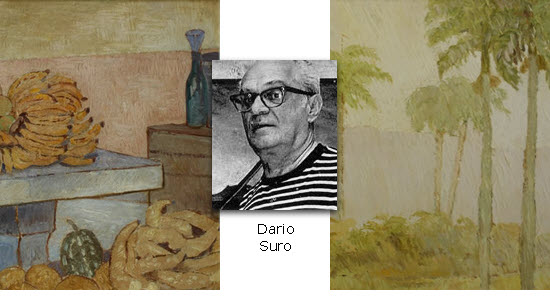 Miguel Tio born in the Dominican Republic on July 5, 1959, is a painter and visionary Visionary art and portrait artist living in New York since 1994.
Celeste Woss y Gil (1890–1985) was a painter from the Dominican Republic. She was known for her paintings of nude women, which shocked the bourgeoisie of Santo Domingo when they were first exhibited. Stylistically, her work owes something to the paintings of Paul Gauguin. A native of Santo Domingo, she was the daughter of Alejandro Woss y Gil, who served for a time as president of the Dominican Republic.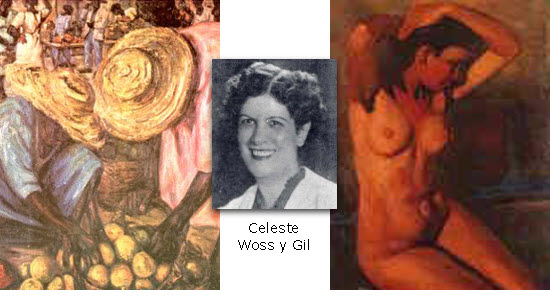 Credits: Additional information and images resources --
Images sources:
Colson: http://rsta.pucmm.edu.do/ciudad/bellapart/sec03/jaimecolson/jaimecolson.htm
Morel: http://rsta.pucmm.edu.do/ciudad/bellapart/sec03/YoryiMorel/yoryimorel.htm
Suro: http://rsta.pucmm.edu.do/ciudad/bellapart/sec03/DarioSuro/dariosuro.htm
Woss y Gil: http://projects.ups.edu/jlago/spring2003/250a/lbrown/
and
Biographical information sources:
http://en.wikipedia.org/wiki/List_of_people_from_the_Dominican_Republic#Painters_and_artists