Dominican Beauty Pageant
and Fashion Personalities
Dominican beauty is a recognized trait of many of the women of the Dominican Republic. Blessed by the heritage that derives from African, Spanish, Portuguese and Native Taino bloodlines there are undoubtedly many beautiful girls that have been born to this small country...
Some of these Dominican beauties have achieved international accolades for their distinctive good looks in terms of success in World beauty contests and the fashion industry. Here are just a few...
Dominican beauty and fashion personalities:
Fashion and beauty pageant personalities from the Dominican Republic, who have made headlines over the last few decades include:
* Mariasela Alvarez – Miss World 1982
* Eva Arias – beauty queen and fashion model
* Susie Castillo – Miss USA 2003
* Ana Contreras – Miss World Beach beauty semifinalist
* Claudia Cruz – Miss World 2004 first runner-up
* Marianne Cruz – Miss Universe 2008 second runner-up
* Yadira Cury – Miss International 2005 first runner-up
* Ada de la Cruz – Miss Universe 2009 first runner-up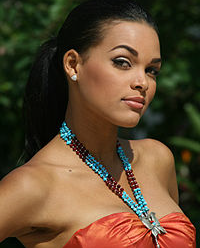 * Magali Febles – owner of the Miss Dominican Republic pageant franchise
* Gilda Jovine – fashion model
* Claudette Lali – former model/film wardrobe stylist
* Denny Méndez – Miss Italy 1997
* Ruth Ocumárez – former beauty queen
* Amell Santana – Miss Earth 2005 first runner-up
* Renata Soñé – Miss Universe 2005 second runner–up
* Arlenis Sosa – fashion model
* Amelia Vega – Miss Universe 2003, actress and model
(Ref: Wikipedia)