Dominican Bus Timetable
and Coach Services
Contact Information and Guide
A Dominican bus timetable can be handy if you plan to use public transport during your visit to the Dominican Republic. We've complied some useful timetable information, plus some additional contact information and some other Dominican transport travel tips.
In a world of escalating web hosting and development costs we have created an opportunity, for anyone who is able to, to support this website through a small donation of $2 for this eBooklet. This small sum will really help us to continue to manage, develop, grow and maintain this website and we appreciate your help most sincerely. Simply click the link below and obtain the eBook immediately on making this tiny donation:
Dominican Republic Bus and Coach Timetables and Travel Info: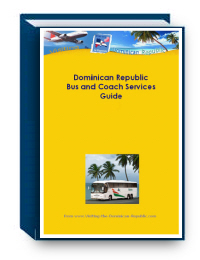 Download immediately for a small $2 donation here:
Thank you very much!
Your invaluable support is truly appreciated,
Ruth, Al y Esther
www.Visiting-the-Dominican-Republic.com
(P.S. Please note that although the title of the eBooklet bears the legend 2009 at this moment, the timetables and information are is still CURRENT in 2010 and we will be updating the cover very soon. Also you will be sent a new copy of the latest version when it is published at no extra cost!)
*****
But we also understand that times are hard for everyone, and if your personal resources cannot stretch to $2, then you can still join our mailing list and obtain the eBooklet at no cost right here: