Dominican Republic History

PIRATES OF THE CARIBBEAN
The REAL pirates of the Caribbean were a truly 'scurvy' band of misfits, petty criminals, escapee convicts and slaves, coralled into a menacing 'scourge of the Caribbean seas' by wayward ex-naval officers.
In the mid-seventeenth century smugglers, run-away servants and ships' crews settled on the island of Tortuga, to the west of Cap Haïtien.
This was to become the headquarters of the Caribbean privateers who raided the Spanish treasure ships, and a centre from which such infamous characters as the British pirate, Henry Morgan, directed their operations.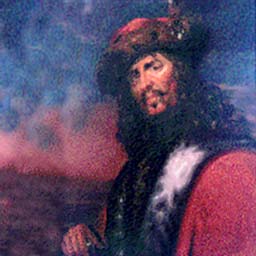 Captain Henry Morgan
Many earned their living by capturing animals whose leather could be sold, or their meat cured over smoking fires. The French word for this process is boucaner – hence the reason pirates are also sometimes referred to as buccaneers!
COLONIAL DECLINE
THE TWO COLONIES
TOUSSAINT L'OUVERTURE
HOME

Quick Links:
---
Help Us Become Ad Free!
As The Season of Good-will and Generosity Approaches... ;-)
We are still working towards making this website 'ad free', but we need a TINY bit of help!
The button below will allow you to to make a small payment directly ($1 or £1) to Al G Smith (manager of the Visiting-the-Dominican-Republic website). Simply choose your preferred currency. Thanks very much.

 HELP US reach our objective?:

---


Just click the images below to start exploring the wealth of information about the Dominican Republic featured on site:
How much do you need to retire to the DR in comfort?...
...Try this handy financial calculator to find out