Altos de Chavon
A Place to See

Without a doubt Altos de Chavon is a film magnates folly that has become
a haven for artists and artisans of the Dominican republic

Original article by Al G Smith
Altos de Chavon has become one of the best known Dominican Republic tourist attractions for visitors to the south-east of the country. Set in an impressive hillside location above the resort of La Romana is one of those 'not-to-be-missed' tourist attraction yet it is a self-evident 'oddity' - as it is actually, hardly a typical Dominican venue. For on this site stands a completely re-imagined 16th century southern European village -- complete in all the detail, and replete with the character and charm that such a place should have -- and appearing just as if it has been magically transported by some wizard's whimsy to this location from medieval Spain itself.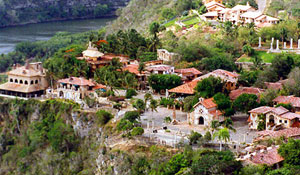 A visitor review at TripAdvisor.com, of a year or so ago sang these praises of this surprising 'find', yet enchanting development [quote]:"...Altos de Chavon was my favorite part of the day! It was so incredibly beautiful - the only disappointing part was that I didn't have enough time there. The amphitheater is breathtaking. Tears sprang to my eyes because I was so overwhelmed by the beauty and view. Two strolling musicians playing guitar added a great deal to the atmosphere. The views from the river, the church, the buildings, the landscaping. If you love beauty, I can't recommend it enough."
A birthday gift!
Apparently, Altos de Chavon appeared here not through elemental magic, but rather thanks to some 'financial' wizardry. For it was the late Charles Bluhdorn*, then the immensely wealthy president of Gulf & Western Corporation* (the once massive US conglomerate that owned Paramount Pictures amongst many other companies) that had this 'Mediterranean village' built as a monumentally extravagant 'birthday present' for his daughter.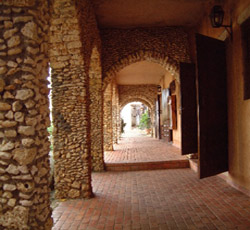 This flight of architectural fancy was constructed using traditional skills during the latter 1970's by local masons and builders under the direction of Italian film set designer Roberto Copa. Copa had, naturally, previously undertaken work for Paramount Pictures, and evidently impressed Bluhdorn with his creative skills.
It is perhaps likely that these 'film-studio' connections later led to Altos de Chavon becoming the setting for certain scenes in the movie that also featured Marlon Brando's last 'significant' role - 'Apocalypse Now'. Although the theme of that particular film is a far cry from the appearance of the attractive pseudo-ancient village itself.
Alto de Chavon has in fact developed into a hugely popular "living museum and artists' colony" providing a beautiful and inspirational setting for Dominican based artists to live, study and work. The village hosts three major art galleries, featuring Dominican Republic paintings as well as many works by European and American artists.
Great galleries and a marvelous Museum
Charles Bluhdorn's enchanting 'folly' features winding cobblestone streets where numerous smaller gallery/shops nestle, offering visitors the opportunity to practice such diverse artistic pursuits such as jewelry making, macramé, print making and other handicrafts and also to buy their own creations.
Nearby, the Regional Museum of Archaeology (the most noted museum outside of the capital, Santo Domingo) houses a fascinating a collection of Taíno artefacts, relics from some of the earliest islanders who lived peacefully here until the arrival of Columbus in 1492.
Besides the numerous galleries and the Museum, Altos de Chavon hosts a good range of restaurants and shops, a disco, a school of design and an impressive Graeco/Roman style amphitheatre which seats 5000 and has hosted some of the world's leading stars. The great Frank Sinatra even appeared here on its opening night and many other notable entertainment talents have been seen at this remarkable venue during the intervening years.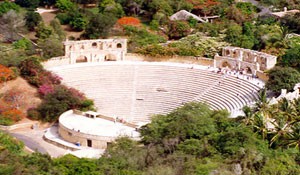 A word to the wise!
All-in-all it makes a fascinating day out to pay a visit to La Romana Altos de Chavon, particularly if you are staying in Punta Cana, Bayahibe, Juan Dolio or Boca Chica areas. But don't forget to try and check out local coach tour companies before immediately booking with your holiday company representatives. It is well known that tour 'deals' and visits promoted by 'holiday reps' tend to come at a premium price, and may not allow you as much time as you would like to look around this "paramount" piece of re-imagined-history!
(* Historical Note: Gulf and Western dealt in many things, including commodities such as sugar, which is what originally bought the conglomerate to the Dominican Republic. Once here, like many others, the President of the company, Charles Bludhorn, fell in love with the beauty of the place, and consequently went on to build Altos de Chavon.
To some extent it could be said that Altos de Chavon was created from the profits arising from the 'blood, sweat and tears' of Dominican and Haitian laborers who toiled in the cane fields, cutting tons of sugar cane for less than $2.50 a day, throughout the 1970's! Gulf and Western ceased their involvement with sugar production, as part of a strategic revision of business activities when the executive management changed.)
(Dear Visitor: If our Altos de Chavon page helps you plan your Dominican Republic vacation, or business visit, please consider making a small (but exceedingly welcome and useful) donation HERE to support the continued viability of this website, which is a voluntary and time-consuming project. Thank you so much. Ruth)

Jump to the top of the Altos de Chavon page