Here is The Dominican Republic Flag
If you want to know more about the Dominican Republic flag, here are some illustrations and the key details of the Flag of the Dominican Republic design:
Fig.1. The Flag of the Dominican Republic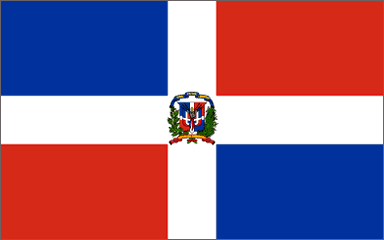 This striking flag bears a centred white cross that extends to the edges and divides the flag into four rectangles. The bars of the cross are a thickness of 1/5th of the depth and 1/8th of the breadth of the flag.
The top rectangles are blue (hoist side) and red, and the bottom ones are red (hoist side) and blue.
A small coat of arms featuring a shield supported by an olive branch (left) and a palm branch (right) is at the centre of the white cross; above the shield a blue ribbon displays the motto in Spanish:
"DIOS, PATRIA, LIBERTAD" (which means "God, Fatherland, Liberty")
Below the shield the words REPUBLICA DOMINICANA (we guess you can work out what that means!) appears on a red ribbon (see Fig.2.).
Fig. 2. Dominican Republic Coat of Arms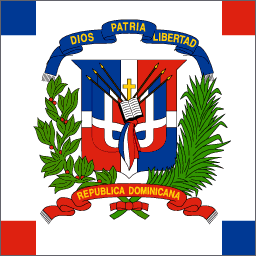 If you would like to know more about the Dominican Republic please see our other information pages.
If you have any difficulty locating the information you want then please do try our site map page to see if it is here.
If you feel there is anything else we should include, or if you have any queries about the flag, or other questions about the Dominican Republic then please feel free to contact us and we'll get back to you with any relevant information we have.
Thank you for visiting our site,
Ruth & Esther

Go to the top of this Dominican Republic flag page