Looking for Missing Persons in Haiti?
Haiti Missing Persons and
Donations Links
Haiti Missing Person resources -- links created through Google:
Are you looking for a missing person in Haiti?

Do you have information about anyone following the earthquake in Haiti?
Please follow the appropriate link, below:
---
Donating to Help Haiti
You can donate now to major charitable relief agencies via Google's Crisis Relief page (click on image below).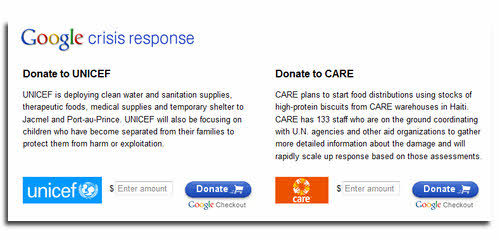 Or choose one of the following options:
Also accepting cash and in-kind donations are the following sites: Clinton Bush Haiti Fund, UNICEF (1-800-4UNICEF), Direct Relief, Yele Haiti, Partners in Health, Red Cross, World Food Program, Mercy Corps (1-888-256-1900), Save the Children, Lambi Fund, Doctors Without Borders, The International Rescue Committee, Care, William J. Clinton Foundation, Meds & Food For Kids, Feed the Children, Habitat for Humanity, Mayor's Fund for NYC
How to Help Haiti -- Additional Useful Pages to Visit:

Charity Navigator -- Lists Genuine Charities:



CNN's Resources and Advice Page:

Return to top of Haiti Missing Persons and Donations Page