Bavaro Dominican Republic
for all Inclusive heaven in the
Caribbean sun!
Puna Cana and Bavaro Dominican Republic - the towns marks out the stretch of over 30 kilometers of silver beaches that skirt the Atlantic Ocean.
These two townships - the key east coast resorts of the Dominican Republic - have grown to 'meet' each other, brought together by the development of a virtual 'chain' of first class all inclusive hotel and leisure developments that mark out the coastline, and mean that this part of the country now hosts some of the Caribbean's finest vacation real estate!
Bávaro is an area running from Cabeza de Toro (Head of the Bull) through to Macao Beach. Bavaro itself has become a center of services due to the general development of resorts in the area. It now offers a range of shopping malls, fast-food stores, drug stores, fine restaurants, banks, clinics, workshops, supermarkets, and schools.
The main town in the district is Veron which has grown even larger, in population terms, than Higuey the capital of the province in territory, with a spreading settlement of impoverished homes of poorer Dominicans seeking work, or simply to try and scrape a living, one way or another, from the many visitors to the area.
Veron, was named after the French proprietor of a timber business back in the early 1930s, and has developed into the main 'home' for the many local hotel workers, and those employed in related touristic activities.
If you are hiring a vehicle it may help to know that Veron also has one of only three three gas stations in the Punta Cana/Bavaro area. It is then almost another 50 kilometers (30 miles) to the next station in the west of the provincial capital, Higuey, at the Fruisa crossroads. The third filling-point is a recently (in 2010) opened Texaco gas station situated about 3 kilometres (1.9 mi) south of Macao beach.
If you are planning a trip to Bavaro or Punta Cana area we present a chance to get a glimpse of some of the great hotels you could choose from - with the help of Google Video and Thompsons Holidays...
So...mix yourself a Margarita, don't forget to add the little paper umbrella - don your sunglasses - and press the 'play button':
---
A glimpse of the Superclubs Breezes Resort at Bavaro:
Another superb Bavaro resort hotel complex the Secrets Excellence:
---
And finally a relaxing few minutes taking in the beach scene of Bavaro, Dominican Republic:
If you missed them be sure to check out our other videos Punta Cana resort areas too.
Click image for current hotel price comparisons in Punta Cana and Bavaro Playa: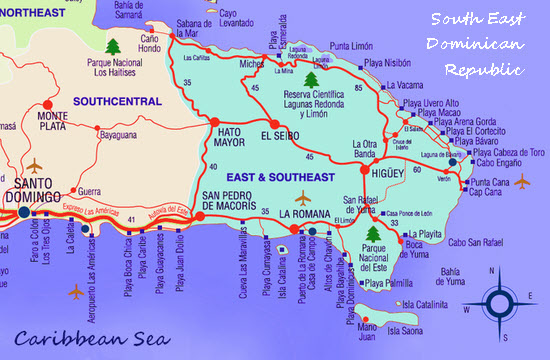 Go to the top of the Bavaro Dominican Republic page
Have You Got A
Dominican Resort Review
Have you been on a visit to the Dominican Republic and have a review of a resort, hotel or tourist attraction?

We's love to feature your recent review of your experiences in the Dominican Republic so we can feature them for the benefit of other readers.

It might be a review of your hotel, or all-inclusive complex, or rental accommodation.

Or perhaps you have a toursitic service you'd like to recommed. Or a place of interest that you visited that others ought to know about.

Whatever it is that might be of value to other future visitors to the Dominican Republic -- let us know here...