Punta Cana Dominican Republic
Offers some great options...
Bavaro and Punta Cana Dominican Republic are both great quality resorts along the perfect stretch of white sand Caribbean beaches that links the two 'transformed' fishing villages!
Punta Cana is part of the newly created Punta Cana-Bavaro-Veron-Macao municipal district in La Altagracia, the province at the eastern tip of the Dominican Republic. The area is acclaimed known for its exceptional beaches,and due to its geographic position some face into the Atalantic oacean, others into the Caribbean Sea,.
Punta cana and Bavaro have become popular tourist resorts over the last four decades. Around about 100,000 people live in the Punta Cana area, which is seeing steady growth as more folks relocate to the area eiether for retirement, or because it relative prosperity offers more job propsects than some other parts of the Isalnd.
The village and beach of Cabeza de Toro marks the northern part of the araea, and then the Bávaro and El Cortecito beaches follow on in a southerly direction. all in all the Punta Cana and Bavaro area boasts more than 30 kilometers of fine, pale sandy beachfront.
The capital of the province, and nearest city is Higuey, the history of which dates back some 500-years. Higüey is around 45 kilometres (28 miles) from Punta Cana, that's around about 60 minutes drive. European hotel companies, particularly Spanish chains, own around 95% of the luzury resorts that are dotted throughout the area. With major investment in the area Punta Cana has become an increasingly popular tourism destination.
---
First - a quick look around the beach - then a helicopter flight with some great view of the Dominican Republic East Coast Resorts - Punta Cana and Bavaro...
Now - a brief introduction to just one excellent resort hotel the Sol Melia Paradisus Punta Cana...A taste of things to come for those who want that 'all-inclusive' lifestyle experience?
---
For some more video insights - click the link to take a look now at some of the first class all inclusive hotels in and around Bavaro!
Or try a hotel search to see what deals are available around Punta Cana and other Dominican holiday resorts at the dates you'd like to travel: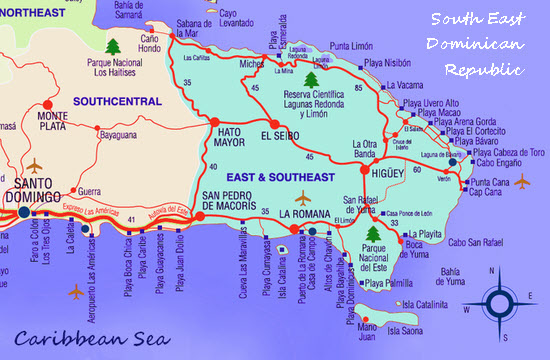 Go to the top of the Punta Cana Dominican Republic page