Dominican Republic Music
A Rhythm that it's Hard to Beat!
Welcome to our brief introduction to Dominican Republic Music - a homage to our heritage!
(PLEASE BE SURE TO: Check out the great range of "Dominican Music Section" in our new online store hosted via Amazon.com. Includes all the main styles including Merengue, Bachata and of course Cuban Son which is also so popular with Dominicans!)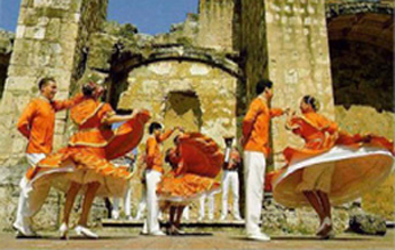 A group of dancers doing a demonstration of 'traditional Dominican Merengue' in the Zona Colonial of Santo Domingo city!
Esther and I couldn't really have a created a Dominican Republic website without a music page, could we? Music is truly as essential an ingredient to Dominican life as water is to life in general!
When you visit the Dominican Republic you will soon become aware that life here moves to a constant infectious rhythm. Music has always been part of the Dominican Heritage, and as that heritage is an exotic blend of native South American, Spanish and African you can guess that the music has to be something special.
We are bit biased, though, and we are happy to admit it. Like many Dominican's our preference is polarised around one particular type of music. One that gets your hips moving and your heart racing! you see Dominican Republic music for us, throughout the time that we were growing up, represented the soul and spirit of our lovely country.
If you ask us which sort of music conjures up images of the Dominican way of life the most? Which kind of music embodies the good times and inspires wonderful expressive, sexy dancing? We would say, of course,it has to be...the MERENGUE!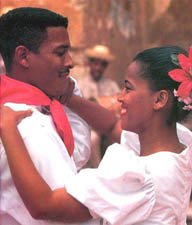 A Dominican couple dressed with traditional clothes and dancing Merengue like our Grandparents did.It is not only elegant, but it is also enchanting!
Merengue's mysterious musical origins
The development of Merengue music is shrouded in a good deal of myth and fairytale. Informed sources seem to suggest that Merengue probably derived from the influence of Haitian 'Mereng' back in the 1800's. Of course there was a time when many Dominican's would have refuted such a supposedly heretical claim (...things being as fractious as they have been between the two countries throughout parts of the last couple of centuries).
During the repressed years of the Trujillo regime Merengue really consolidated itself as main musical motif of the resilient Dominican spirit.When Trujillo was finally dispensed with and the Dominican Republic's isolation came to an end, Merengue went from strength to strength carried by those Dominican's who looked for work and success in other parts of the world, predominantly of course, the US.

(Note: Available to US Visitors Only Just Now)
Since the 1980's, via the clubs of New York and Miami in particular, the Merengue sound has developed and progressed and has been assimilated into the mainstream world music of today. But the biggest stars of Merengue are still based in their homeland where many are revered (and some 'Merengueros', like Johnny Ventura, even aspire to serious political ambitions...like a kind of Dominican version of Arnold Schwarzenegger…with 'rhythm' instead of muscles!)
The rhythm of Dominican life wherever you go
When you are visiting the Dominican Republic you will become accustomed to hearing the hip-swinging Merengue rhythms emanating from shops and cars, flats and houses, bars and clubs, and the many boom-boxes carted around by young Dominicans as they jauntily saunter about their daily business.
We love the Merengue mainly because we are passionate about dancing – and dancing to the Merengue is a 'passionate' business. My sister, Esther is more reserved than me when it comes to dancing Merengue. I only have to hear the stimulating, eccentric rhythm of Merengue to find myself compelled to start moving to the rhythm, and singing along with the lyrics of the many Merengue 'Hits' that Dominicans know so well. I have often been inspired to dance for hours without a break! (It's a great work-out!!)
By the time your visit to the Dominican Republic comes to an end I defy you not to find yourself overwhelmed by the same urges!
I know I am biased, because for me Merengue has been a central influence throughout my life...but some Dominicans would feel I had been unfair to the 'second' most popular form of Dominican Republic music if I didn't at least mention Bachata!
I'll admit that Esther and I came to words over this discussion, as she really only has 'ears' for Merengue...so it's up to me to tell you a little about brazen Bachata!!!
The popular music of Bachata
To be fair, in the annals of Dominican Republic music history Bachata first developed out of certain musical preferences of the Dominican underclasses. Though I don't like to think of myself as a music-snob, I blame the fact that as a 'good girl' throughout my own teens, bachata was only played in places where 'good girls' would never be seen!
True this form of Dominican Republic music has now gained a degree of respectability. It will be heard about half as often 'twangling' (if that is a word...but it sort of sums up the general sound of Bachata, if you know what I mean?) from Dominican Radio stations about half as often as Merengue.
I guess the associations I make in my mind about it, have meant that I have never cared for Bachata as much as Merengue. I suspect nearly all Dominicans have their own firm favourite form of Dominican Republic music and I would have said the twain shall never meet. Even so some of today's young Dominican Republic music stars have even 'fused' the two styles together to try and create a hybrid some call 'bachatarengue' (...sacrilege as far as I'm concerned! ;-))
Dominican Music VIDEO Pages

Dominican Merengue Music
Dominican Bachata Music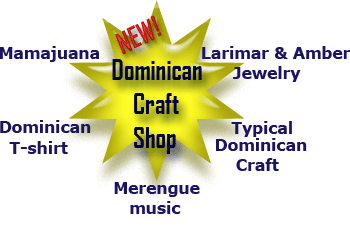 ......................................................
Your Favorite Domincan Track or Performer?
Who is your favorite Dominican Republic singer, band, or group?

Or what is your favorite Dominican music track, or album -- old or new?

We'd love to hear your suggestions about the what you think is best in the Dominican music scene just now...
Your Favorite Domincan Track or Performer?
Who is your favorite Dominican Republic singer, band, or group?

Or what is your favorite Dominican music track, or album -- old or new?

We'd love to hear your suggestions about the ahat you think is best in the Dominican music scene just now...

Return to the top of the Dominican Republic music page