Our Favorite Dominican
Sancocho Recipe!
Actually, the Sancocho Recipe we will share here is from our mother, Elida Rodriguez (to whose memory we dedicate this page)...and she, of course, got this recipe from her own mother, our maternal Grandmother (and another excellent Dominican cook!).
Our beloved mother always loved cooking for her family. She would cook mouthwatering Dominican dishes with fresh ingredients every single day without exception.
From Monday to Friday at mid-day Mom would prepare 'La Bandera' (the 'Flag') also known as 'La comida'. You can learn more about 'La Bandera' on the Dominican Republic food page. Then on an evening or weekend perhaps she would prepare this her wonderful Sancocho recipe
About the Sancocho Recipe
The Sancocho recipe you are about to see is very common in the North-East part of the Island. But, there can be great variations of Sancocho recipe from region to region.
For example, as I was writing this page, I spent some time researching the 'Dominican Sancocho recipe' in general, to see how they compared with 'the one Mom used to make'. I was astonished to discover a great variations on the 'basic' Sancocho recipe!
For example I found one Sancocho recipe that suggests the inclusion of celery and capers. This sounds as if it might be quite delicious, but as far I can recall during 26 years I lived in the Dominican Republic (that's before I set-off round the world to find fame and fortune:-D) I don't remember ever actually seeing, or trying, a Sancocho with such ingredients!
I guess cooking is one of those skills that needs plenty of imagination and initiative, because at the end of the day everybody has different tastes and preferences. So we hope you'll enjoy our Mom's own Sancocho recipe...but don't be afraid to 'experiment' a bit, and give it your own 'twist'. If you come up with something really good, please do let us know and we'll add your 'variation' on a Sancocho recipe theme to our Dominican food pages!
So, the recipe I'm about to share with you is one we had served to us countless times by my mother. All I can say is that we never grew tired of it, and it was ALWAYS delicious.
Even today a very similar Sancocho recipe is regularly used by my aunties living in different parts of the Dominican Republic and the USA...as well as by my sister and I whenever we have made Dominican Sancocho for our own families and friends while we have been in UK. So I could say that a good many people 'around the world' have already tasted and enjoyed this 'homely' version of a typical Dominican Republic recipe.
OK, enough 'chit-chat' let's get on with passing-on 'Elida's Special' Sancocho recipe, one of the favorite Dominican dishes that has 'sustained' our family over many years!!!
'Elida's Special' - A Dominican Sancocho Recipe handed down through the Generations
The following recipe will serve 4 people (but remember this is 'generous' Dominican portions...which probably means it will serve at least 6 in most other places!!) and it can be cooked in approximately one and half hours:
What equipment do you need?You will need a large bowl; 2 good sized cooking pots; a chopping board; a large, sharp cook's knife, and a traditional wooden or stone mortar and pestle...
...and then of course the ingredients!
For meats you will need:
1lb of beef, preferably with bones.
1 1/2 lb of fresh chicken
1 lb of fresh pork

The other ingredients:

(...and here we include all the typical local vegetables used - you may need to hunt around in some places to get hold of these, but it is worth the trouble, if you can get them, to achieve an authentic result)
2 green plantains
1 lb of cassava or yuca*
1 lb of white yam*
1 lb of eddoes or yautia*
1/2 lb of potatoes
3 large onions
Small bunch of coriander or cilantro
2 large naranja agria** or lemon fruits
1 tablespoon of vinegar (optional)
2 stock cubes of beef or chicken
Vegetable oil at your discretion
Five cloves of garlic
1 small portion or oregano
2 small or 1 large green peppers
1 lb of American rice
1 1/2 lbs of Spanish pumpkin
5 liters of water
salt (to taste - usually about 1-2 teaspoons)

Side Notes:

* - You need about 3lbs in total of staple vegetables like yams or yuca, use a mix of the three listed if you can get them, or make up the total amount from what you can get.

** - 'naranja agria' are very sour oranges widely use for cooking in the Dominican Republic. But don't panic if you don't have 'naranja agria', you can always use lemon as a subtitute.

Preparation:

Peel your garlic cloves and place them into the mortar together with the oregano and salt, then mash them together well.

If you don't have a mortar, just crush all the above ingredients with the side of a heavy knife on a chopping board (remember to flush your board well with cold water immediately after doing this to avoid transfer of garlic flavour to things you might not want to taint, later on!)

Peel and chop the onions in quarters.

Now take all the meat and cut it into fairly equally sized pieces (for beef and pork, 4cm or 1 1/2 inch cubes - for chicken 'small joints'), if using meat on the bone, leave it on the bone for extra flavour, wash the meat well with plenty of water. It is also better if you remove the skin of the chicken and any excess fat from the other meats. For ease in cutting any type of meat, buy a John Boos butcher block for the best results

Once you have done this, place all the meat in a large bowl and 'wash' the meat again with the naranja agria or lemon juice, and drain about half the liquid off.

Once the meat is washed and ready, add the mashed combination of garlic and herbs you have in the mortar. At this stage you can add a bit of vinegar (say a good teaspoon full), some vegetable oil and half of the chopped onions (leaving the rest for later).

Now stir the meat and these ingredients well and let it rest to develop the flavor for about half an hour, while you prepare the other items.

Whilst the meat is resting, peel the plantain, yucca, yam, potatoes, Spanish pumpkin and eddoes. Then cut them into pieces roughly the same size as the meat 'chunks'.

Cooking the meat

Place a large pan (ideally one that's not too deep - a wide bottomed, heavy lidded, braising pan is best) on the heat with some vegetable oil, say about half a cup.

Once the oil is reasonably hot you can add the meat (The meat should sizzle appetizingly when it goes into the pan, BUT be careful the hot oil doesn't splash you...or anyone else!!). Don't add too much meat in one go, and let the heat come back into the oil as add each 'batch'. Make sure all the meat is 'seized', or 'browned' on all sides...this will help keep it moist and reduce the chance of it flaking to bits during the cooking process.

Once all the meat is browned, immediately add about a teaspoon of salt and a pint of stock. Stir well.

Let the pot just come to the boil then turn down the heat and let the meat simmer, with a good heavy lid on the pot, for at around 40 minutes before starting the rest of the cooking.

After this time the meat will be more than half cooked, turn it off for the time being. Now you can start the second step.

Take another big cooking pot, quite deep this time, put it onto the heat and add three liters of water.

Add all your plantain, yucca and the other vegetables to the cooking pot together with the coriander, the rest of chopped onion and the chopped green peppers. Also crumble into the pot the other stock cube, and stir.

After heating the pot for 15 minutes, by which time it should be coming to the boil (if not already turned to simmer) carefully mix in all the contents of the meat pan. Add more water if necessary, so that all contents of the pan are just covered, and bring back to the boil before turning down to a simmering heat again.

From now on the Sancocho will start developing a good color and thickening. You need to check it every ten minutes to ensure it doesn't get too dry, it will have the tendency to do this as moisture evaporates and stock is absorbed by vegetables. You should add a little more water if necessary.

Now you can start to cook the rice using your preferred method. We tend to wash the rice well (until water runs quite clear - which means sticky starches have been removed) and allow a fairly generous 75 grams/3 ounces of uncooked rice per person. We bring the rice to the boil with twice the amount of water to rice and a little oil, and let it simmer for about 10 minutes until the water is absorbed.

After about one hour or so of total cooking time your Sancocho sauce should be nicely thickened by the starchy vegetables (but not too dry) and the meats should be lovely and juicily tender (try them before you turn off the heat, and give another 10 minutes if necessary). Your typical Dominican dish should be ready to serve and enjoy.

A few additional suggestions to 'tweak' or complement your Dominican Sancocho recipe:
Why not take some ripe and juicy avocados and prepare a simple accompaniment: (see our avocado recipes page for ideas!)
What about adding some Tabasco sauce to your Sancocho recipe? (carefully) If you fancy a 'spicier' finish!
Since I have been in the UK, I love using English Worcestershire sauce just to add a distinctive flavor to my own Sancocho recipe!
Try adding the bunch of roughly chopped cilantro/coriander near the very end of the cooking if you like the fresher herby/lemony taste it gives?
Serve your Dominican Sancocho with a big bowl of fresh salad dressed with extra virgin olive oil and a little lemon juice, salt and pepper.
...and a nice cold glass of Presidente... a zesty Margarita!!!

We hope you enjoy it!

Ruth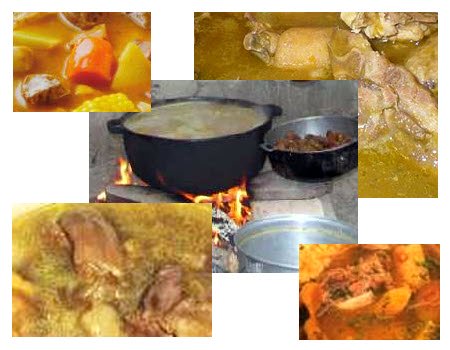 ---
Do YOU Have a Favorite
Caribbean, Latin or
Dominican Recipe
We'd love for you to let us know about your favorite Dominican Recipe -- or indeed a great recipe from any Caribbean or Latin culture would be really great.

If you have a recipe you have tried, tested, and love -- then please take a few minutes to let us know it.

We'll publish it here on the site so others can also enjoy your 'good taste'.
What Other Visitors Have Said
Click below to see contributions from other visitors to this page...

Ajiaco a la Cubana Not rated yet
Ajiaco Cubano recipe This dish is very hearty, so it should be eaten with nothing else except bread and a light fruit dessert. This recipe will feed …

Go to the top of the Dominican Sancocho Recipe page